Barbie's Blog
---
4 Ways to Improve Your Home's Energy With Feng Shui
In the modern world, it's hard to find peace in our busy lives. Your home is your sanctuary and should be a place of relaxation. In Feng Shui, each area of your home is linked to a different part of your life, known as baguas, and your job is to balance each part. Here are four ways to improve your home's energy with Feng Shui.
De-clutter
For a balanced Chi (universal energy) in your home, it's important to declutter stuck energy. This is hard for many people, but once you clear out items that you no longer need, you will find that your home's energy has been boosted because you are more organized and efficient. The North Bagua in your home is attached to your career, so this area is especially important to organize and declutter to maintain strength in the workplace.
Include Natural Elements
The East Bagua area of your home is related to your health and family. Implement water, wood and Earth Feng Shui elements into your décor. Paint a focal wall a warm brown color to represent the Earth, add a large mirror to reflect water and add plants and greenery to represent wood. These elements will help strengthen your health, wellbeing and your family's connection.
Implement Power Tones
The South Bagua should have fire and wood elements in the décor. Include a bright red pillow or paint a focal wall red. Then add brown and green elements to the room with plants, photos or art to maintain the wood element in the room and balance the Chi. The South Bagua represents your reputation and needs to balance both power and honesty, represented through fire and natural wood.
Add a Touch of Metal
A white or gray color scheme will help you balance the West Bagua in your home, which represents creativity. Rooms in the west area of your home should be simple and clean with metal elements in photographs, art and visual representations of what inspires you and sparks your creativity. This area of your home is meant for you to unleash your personality and expose the things that make you tick.
Feng Shui will balance your home's energy and give you a sense of peace at home. Light candles that have comforting scents, dim your lights at night and truly get in touch with your inner peace. Leave work at work and make your home a place of relaxation by balancing your baguas in each area of your home. With these four ways to improve your home's energy with Feng Shui, you will feel calmer and more productive in your home.
中国投资海外房产 酒店为头号目标
纽约、洛杉矶、巴黎、伦敦、……中国的投资者对这些国际都市的高端酒店投资表现出越来越浓厚的兴趣。地产资讯公司仲量联行NihatErcan接受记者采访时表示,"中国投资者拥有走向国际市场的实力和需求,他们对各类实业投资感兴趣,而酒店作为地产类资产的延伸越来越成为他们投资的必备,这一趋势将至少延续到2015年"。
近年来,中国投资在海外购置酒店资产动作不断。近日,阳光保险宣布,公司以4.63亿澳元(约24.5亿元人民币)收购澳大利亚悉尼喜来登公园酒店。11月初中国安邦保险集团以19亿美元收购纽约华尔道夫酒店。而一个月前,巴黎香榭丽舍大街的地标建筑–万豪香榭丽舍酒店以4.6727亿美元被香港开源控股公司收购。6月,中国人寿与卡塔尔控股共同出资7.95亿英镑收购了伦敦金丝雀码头10 Upper Bank Street大楼90%的股权……
除了酒店集团,保险公司对全球酒店类投资收购兴趣最浓,Nihat Ercan认为这一方面是2012年中国对保险公司对外投资政策的放宽,另外一方面是随当前中国房地产市场投资回报预期的下降,保险公司开始转向投资回报率稳定且相对较高的海外商业地产。
  "酒店类资产对他们来说是进入国际市场的一个好契机与方式",Nihat Ercan说,"拿安邦保险举例,收购纽约的华尔道夫,一下子让安邦这个品牌进入国际视野"。
除此之外,一些个人投资者对酒店投资也越来越感兴趣。Nihat Ercan说去年一位来自中国的商人对新加坡Orchid酒店投资10亿新加坡元,而他此前也在澳洲投资过商业地产。"涉足酒店投资说明这些中国商人在寻求多样化的投资机遇,有走向国际的意愿。而酒店投资也为他们在全球热门市场打开商业起到非常关键的一步"。
投资酒店:门户(gateway)市场先行
开源控股对万豪香榭丽舍酒店交易完成后,仲量联行Patrick Saade表示,"2014年初我们预测在欧洲的酒店类投资有超过20%的增长"。
"这进一步说明来自中国的投资者对巴黎等门户城市的高端酒店投资有着越来越浓厚的兴趣"。Nihat Ercan补充说,他相信中国投资者对海外酒店感兴趣与日益增长的中国游客有关,"中国投资者热衷于欧洲的巴黎、伦敦,美国的纽约、洛杉矶,澳洲的悉尼、墨尔本等门户(gateway)城市,这些城市有越来越多的中国游客"。
  近年来,中国出境旅游市场持续高速增长。中国旅游研究院7月8日发布的《2014上半年旅游经济运行分析和下半年趋势预测》指出,今年上半年,因中国国内经济稳定增长和节假日的影响,中国出境游消费继续增长,预计总花费超过700亿美元,同比增长20.7%;下半年,随着交通网的完善,尤其是一些直航线路的增多,全球贸易发展,以及各国相继推出的签证便利化政策,中国游客出境游将继续增长;预计2014年全年出境旅游人数达1.16亿人次,同比增长18.2%,出境旅游花费1550亿美元,同比增长20%。
Nihat Ercan还认为,投资酒店是这些投资者打开海外市场的一个渠道和基础,"我们看到许多投资者与旅游公司有关,投资酒店也是他们需求更多商业机会的一个重要组成部分"。他介绍说,很多中国投资者在酒店经营中融入更多中国元素,在服务中也更贴近中国游客的需求,比如增加讲中文的酒店服务人员,在餐厅提供中餐等等。
"地标位置的高端酒店对中国投资者的吸引力很大,比如开源控股的董事长,他就对香榭丽舍大街这个地理位置非常看重",Nihat Ercan说。
投资者:寻求长线收益
纽约、巴黎、伦敦的酒店投资市场正热,让有实力的财团跃跃欲试的同时,如此激烈的竞争也让部分投资者转而到中等城市,或者中档酒店寻求机遇。

  武汉五月花大酒店总经理罗春安在纽约的投资项目就位于长岛市以及皇后区,"虽然远离曼哈顿,但这里对游客仍具有吸引力,我们在长岛的酒店于今年8月对外开放之后,到今年年底的房间已经全部订满",他说。
在近日北京举行的第三届北京海外置业、投资移民及高端生活展览会上,记者也发现一些中国投资者青睐的酒店项目开始向纽约长岛、芝加哥这样的非核心城市及区域聚集。
Nihat Ercan也表示这样的情况并非个例,"投资者要了解每个市场的特点,而着眼于未来会有发展的区域,并耐心等待也是非常好的策略"。
他介绍说,一般来说,酒店的持有者并不会在5年内抛售,"也许在某些中等城市,机遇的到来要等待几年。而这些投资者需求的是代际的,可持续的增长机会,因此5年、甚至10年的时间相对来说并不长"。
Nihat Ercan也坦言面对一个新的市场,对中国投资者的考验并不小,"一下子需要处理太多的信息,突破语言、法律、文化的障碍去分析每一个市场的特点,因地制宜制定商业战略,这并不是一件容易的事。基于此,寻找合适的顾问和第三方非常重要"。
Controversy has swirled aroundthe 421-a tax abatement programlately, with critics claiming that it gives massive tax breaks to developers and wealthy condo owners while providing relatively little in the way of affordable housing. This criticism has led to increased scrutiny from the government, which has now claimed a casualty: the building at49 East 34th Street, which was illegally operating as a hotel while still receiving 421-a subsidies for which it was ineligible, will be closed on March 11 and the parent company of its owner, CIM Group, will be forced the pay the $4.4 million in tax breaks it received backto the city. The company will also pay the city $275,000 to cover the cost of the investigation, and will be forced to convert the building to rent-regulated apartments.
The history of the building, though short, is rather complicated. It was developed in 2007 by Esplanade Capital as a condo project, making it eligible for the 421-a program. However, Esplanade's plan to sell the building to an Irish company fell through, causing Esplanade to default on its construction loan. It was at that point that operations were turned over to Bridgestreet Corporate Housing, which began using the building for "extended-stay housing." After Esplanade lost the property to the lender on the construction loan, iStar, it was sold to CIM Group, which kept Bridgestreet on and began renting the units short-term.
"We cannot and will not allow the 421-a program to act as a giveaway to line the pockets of the rich and powerful," state attorney general Eric T. Schneiderman said. "The 421-a program provides massive tax benefits to developers. We will continue to make sure that the prerequisites for receiving those benefits are enforced."
RETIREMENT AND REAL ESTATE PURCHASE
Life expectancy in United States is growing for some time now, and currently is around 78 years. This leaves us with around 20 years of living on IRA, which is an indicator of how important good retirement plan is, but also that investing in real estate can be a good way to make retirement living more substantial.
Buying a real estate during retirement years is one of the toughest decisions a person can make. Investing can be guided by different objectives. Person can buy real estate for purpose of providing home for him/herself or the family. Real estate purchases can also provide steady income from rent, and the last objective that rarely guides retirees to invest in this market is to earn significant funds by reselling the property later. In accordance with these objectives there are different ways how to obtain enough funds for investing. In this article we're going to list some of the most popular ways retirees use for buying real estate.
Selling Property First
Lot of retirees decides to move to neighborhoods that are friendlier toward the needs of senior citizens. Buying and selling property at the same time can be a little bit of a drag. It is very important to the seller to research the real estate market beforehand, and never fully rely on real estate agents. Current market situation can favor buyers or sellers and these trends should influence future decisions.
Selling old property before buying a new one is good because future buyer knows the amount of money he/she can work with . Overestimating current property and being to much of an optimist can result in serious finance troubles. If current home still requires mortgage payments, it is much easier to get and handle one mortgage payment at a time.
Disadvantages of this kind of deals is that seller will need to rent another real estate before buying a new property, which sometimes means that some of the seller's belongings would need to be kept in storage. Probably the biggest disadvantage is that sometimes it's hard to follow real estate market trends when deciding to sell property first.
Taking a Mortgage Loan
Taking a mortgage loan for a new home is advisable especially if debtor already paid off all his/her previous loans. Taking a new mortgage can be little bit tricky for retirees. Lender might ask for clean credit history and healthy retirement accounts. In addition to this and depending on the amount of money retiree wants to lend from the bank or credit union, lenders may also ask for proofs of consistent monthly income. There are also lenders who don't ask for this, but the rule of the thumb is that lenders who have less requirements also have the higher interests.
Very important thing when it comes to taking mortgage loans during retirement yeas is to decide for easier and more affordable payment plans. Choosing bi-weekly payment plans for example results in one additional monthly payment annually which significantly lowers the interest and shortens repayment period. Benefits of these payment plans are obvious when using bi-weekly mortgage calculators that can be easily found online.
Buying Real Estate with IRA
The best thing about buying real estate this way is that it doesn't require paying taxes, especially if you have enough funds for the purchase on Roth IRA account. Unfortunately there are also a lot of complications that might invalidate IRA-based investments.
Establishing Self-Directed (Roth or regular) IRA is one of the requirements and this sometimes mean that retirees need to set up a limited liability company to hold their assets. Finding a plan administrator who's going to allow a retiree to use IRA funds for real estate purchase is another necessary requirement. Administrator should be a person or a company that doesn't sell or promote properties, because some commission-based administrators just want to sell their investments.
For buying real estate with IRA, possible buyers need to have large funds on their accounts. More money they have, the better their self-directed programs will be. Real estate in some nicer and more expensive areas can be very costly, and the only way how this purchase can be affordable is if buyer plans to earn significant profits on this property, by renting or reselling it after the market trends change.
500億中資 將投入紐約房市
5/4/2015
西57街111号将成为未来纽约新的地标级公寓。(取自网络)。
中国买家钱进纽约,置数千万巨资在纽约顶级豪宅One 57购房。(取自网络)。
旧住宅或办公楼改造为公寓在纽约蔚然成风,图为纽约Walker Tower。(取自网络)
中国丰沛的资金近年大量挹注于美国房地产,而中国人对纽约市去年房地产的投资更创下新高,地产专家并大胆预言,这不过只是开端。
高纬环球地产公司(Cushman & Wakefield)纽约投资销售部门总裁克纳卡尔说:"未年数年,我们将会见到中国对纽约市房地产市场的投资超过500亿元。"中国买家在纽约市的几宗引人瞩目的房地产交易,即由克纳卡尔策画。
对外国房地产投资者而言,美国长久以来一直是普受欢迎的目标,但过去该市场一直被俄罗斯和中东买家盘踞。然而,去年即涌现一波来自中国的新买家,这 些中国投资者在各种大小房地产市场争相攫获不少战利品,最受人瞩目的是安邦集团以创纪录的19亿5000万元天价,收购了地标建筑纽约市曼哈坦的华尔道夫 饭店(Waldorf Astoria)。
纽约高级房地产开发商JDS Development创办人史滕恩说:"不说你不信,这两年,这些中国投资人只是在试水温罢了。他们下手前都经过深思熟虑,而且非常精打细算。"史滕恩 曾参与纽约市数栋最高摩天大楼的开发,最著名的如"Walker Tower"和"Stella Tower"。
他目前进行的开发计画是位于曼哈坦西57街111号的摩天大楼,该栋纽约最高住宅大楼内部分单位市价超过1亿元,其价位极可能打破纽约市最贵共有公寓的纪录。
虽然这样望尘莫及的天价令小老百姓瞠目结舌,却绝不会令一些中国买家却步。另一栋在同一条街新建的摩天大楼,位于西57街157号的"One57"大楼,最近就由一名中国买家以3000万元买了一户公寓。
史滕恩说:"美国房地产市场和中国市场的规模相去甚远,无论是从价格和交易量来相比,美国市场简直是小巫见大巫。"中国人在美国的房地产投资自2012年开始一年比一年活络,2014年,中国人在纽约房地产的投资高达30亿元,比2013年增加了43%。
史滕恩强调:"这是向上爬升的趋势,而且我认为目前只是趋势的开端。"
中国投资人也充分能挥出这样的大手笔,据报导,中国保险集团已获中国政府准许,用他们16兆美元的资产在海外置产。
纽约皇后区全新商业楼投资项目
75-43 Parsons Boulevard,
Flushing NY 11366
2/13/2015
Hotel Somerset -High Growth Potential & Revenue-
2/5/2015
Current OFF MARKET DEALS!!
1/30/2015













曼哈顿最后一块处女地的未来
THE NEW WEST SIDE新西边 – Hudson Yards NYC
1/14/2015




Hudson Yards is the epicenter of Manhattan's New West Side. Bordered by the Hudson River, Chelsea, Hell's Kitchen and Midtown, this neighborhood is booming. It is a beacon for creative professionals, growing at five times the rate of the rest of Manhattan. A hub for fashion, design, communications and the arts, the area recently became the home of Google and other fast-growing technology and digital media firms. Hudson Yards will attract and cater to this vibrant, cutting-edge community.
Hudson Yards是曼哈顿全新西边的中心。由哈得逊河,切尔西,海尔斯凯琴和中城相连,这个区域正在蓬勃发展着。它是创意专家们的一盏明灯,以曼哈顿成长的5倍 速度前行着。它是一个为时尚,设计,通讯及艺术创建的中心。此地区最近也成为了谷歌还有其它快速发展的技术和数字媒体公司的家园。Hudson Yards将会吸引和满足这个充满活力的最前沿的社区。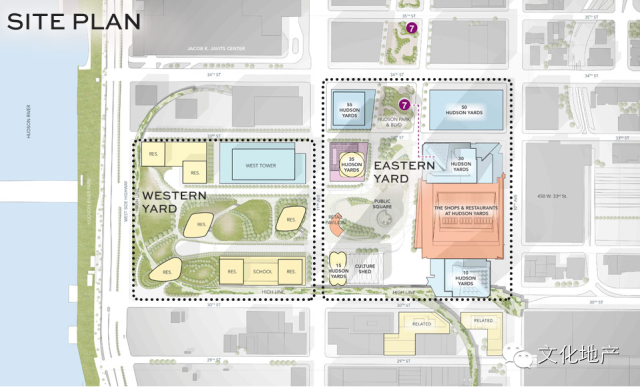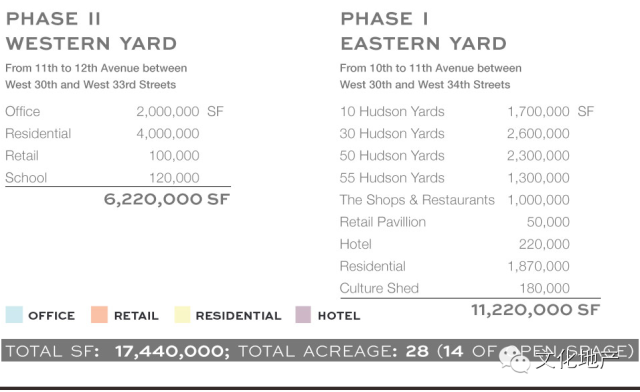 Growth can be attributed to the success of the High Line which has spurred $2 billion of private investment, 12,000 new jobs and 29 development projects since opening in June 2009. The High Line has started construction of its third and final phase which wraps Hudson Yards as it turns toward the Hudson River at West 30th Street and culminates at 12th Avenue and West 34th Street. The third phase of the High Line is opening in 2014.
增长可归 功于High Line的成功。它激发了20亿美元的私人投资,12,000个全新职位,还有自2009年6月开始的29个开发项目,High Line已经开始建设第三和最后的阶段。围绕着Hudson Yards的是面向哈得逊河的西30街,第12大道到底和西34街。High Line的第三个阶段在2014年展开。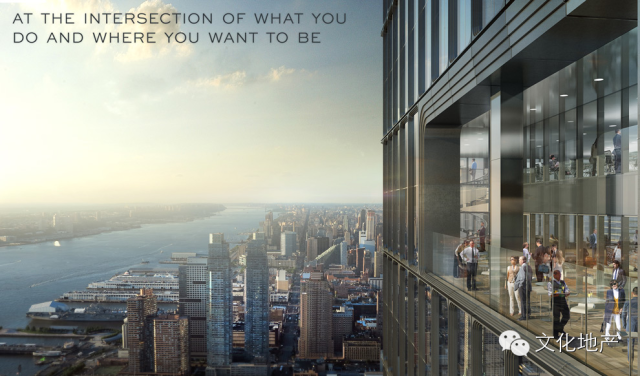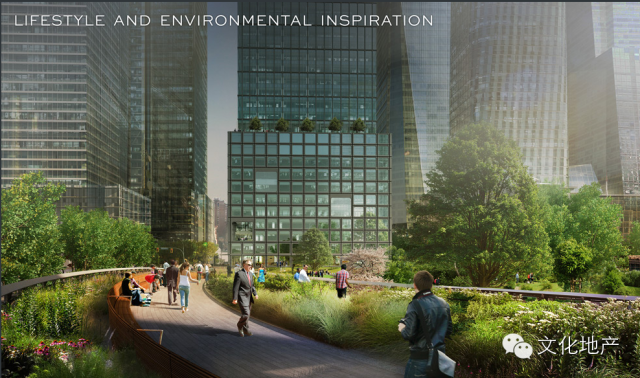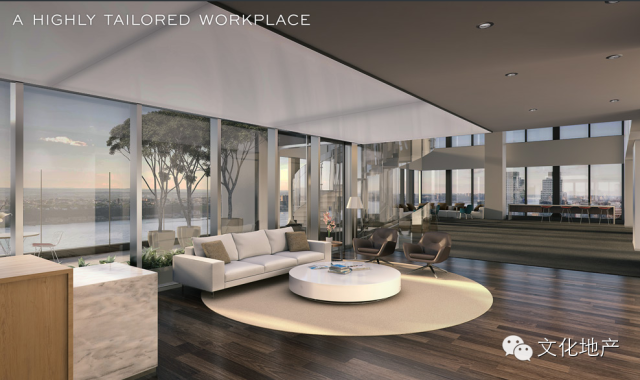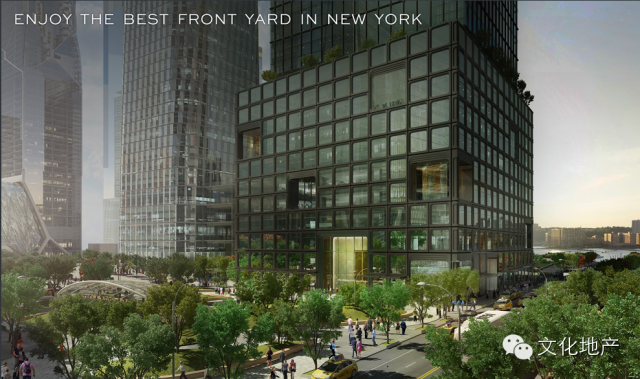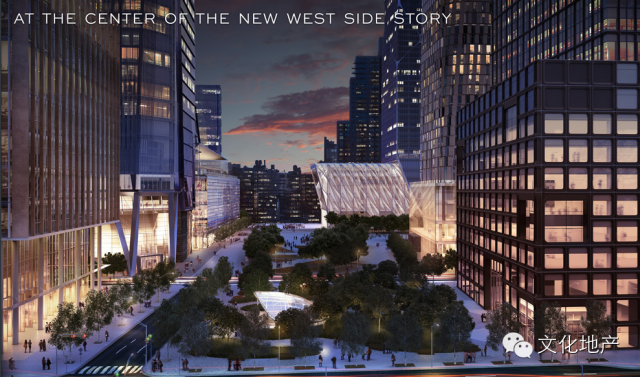 Additional public investment in area parks, mass transit and infrastructure will ensure this is the most livable area of the city.
另外在地区公园,公共交通和基础设施的投资,确保这里将是城市最适宜居住的区域。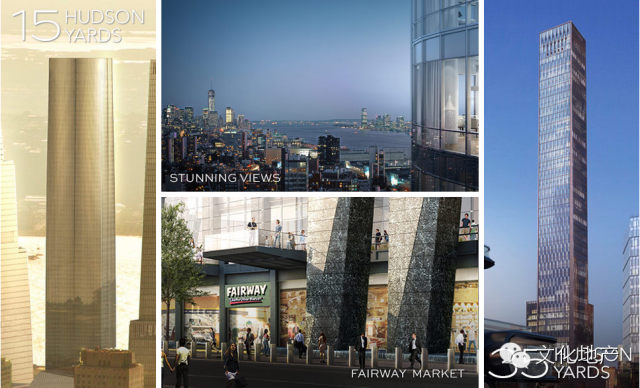 Live Here居住于此
We are excited to announce two marquee residential developments in New York City's most exciting new neighborhood, Hudson Yards. 15 Hudson Yards and 35 Hudson Yards will offer the ultimate in city living. Diller Scofidio + Renfro, David Childs/SOM and David Rockwell and Ismael Leyva are putting their stamp on the New West Side, designing the first two residential towers at Hudson Yards.
我们很高兴地宣布,2栋住宅会在纽约市最令人兴奋的新社区-Hudson Yards内开发。15 Hudson Yards和35 Hudson Yards将提供终极的城市生活。现在Diller Scofidio + Renfro, David Childs/SOM和David Rockwell还有Ismael Leyva正在对新西城进行改造,将设计Hudson Yards的第一和第二个住宅塔楼。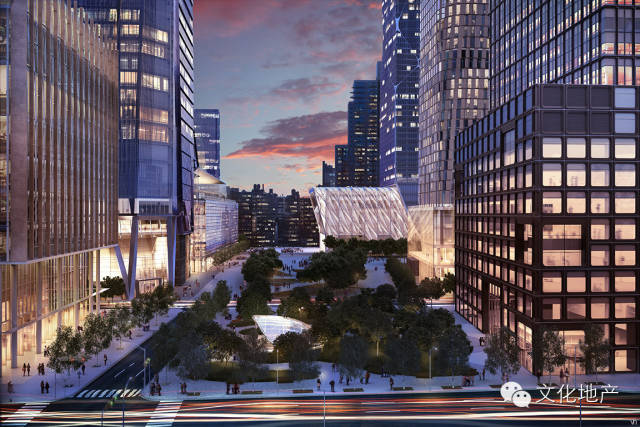 Have it all: residents of Hudson Yards will enjoy an enviable array of conveniences such as shopping, dining, entertainment, cultural events and outdoor parks. In addition, each tower will offer a specially curated suite of amenities with stunning views of the Hudson River and New York City skyline.
拥有这一切:Hudson Yards的居民将享受令人羡慕的便利设施,如购物,餐饮,娱乐,文化活动和户外公园。此外,每个塔楼将提供一个设施特别策划的套房,将会拥有哈得逊河和纽约市天际线的壮丽景色。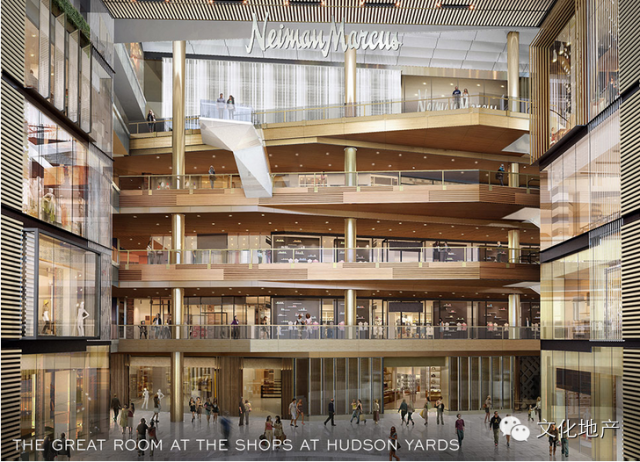 Shopping Center购物中心
A collection of 100 shops with international roots and global appeal will create New York's next great shopping mecca. Befitting a next-generation neighborhood centered in New York's booming culture-meets-tech enclave, The Shops at Hudson Yards will provide a retail experience that is both artful and forward-looking. As imagined by internationally renowned architectural firm Elkus Manfredi, The Shops will be separated into distinct districts, each offering its own particular mix of style and substance. Collectively, they will feature the finest couture designers as well as the leading names in accessible global retail.
100家国际和全球知名品牌的精选商店,将创建于纽约下一个空前的购物圣地。新一代社区集中在纽约蓬勃发展,文化荟萃的高科技聚集地附近。在Hudson Yards的商店将提供一个既巧妙又前瞻的零售经验。由国际知名建筑师事务所Elkus Manfredi的创想,该商店将被划分成不同的区域,每个区域会提供自身风格和内容的特殊组合。总体来说,他们将有最好的时装设计师,以及全球的龙头品牌。
Public Square公共广场


中国私募基金夸父花费3千2百万美金购买哈德逊后院额外开发权
1/14/2015
中 国私募基金公司夸父地产正在为他开发的一栋47层混用公寓楼申请购买两个开发激励项目。该栋楼的开发地址是曼哈顿470号11大道,酒店,公寓混用住 宅。该楼由夸父和美国开发商黑房公司和Siras开发商合作开发。该项目正在寻求用3千1百60万美金获得额外的17万平方英尺的开发权。如果获得这个开 发权以后,该项目的开发面积将达到32万平方英尺。
这个处在38街的项目的额外开发权的获得,将使得 地皮面积和楼内面积的比例大幅提升, 由原来的140000平方英尺提升到319905平方英尺,达到了这块地皮的最大潜在开发面积。该楼名字叫做hudson rise。 包括楼上90000平方英尺的42套出售公寓。还有约250000平方英尺的酒店占用面积。位置正好是在纽约市会展中心javits center对面。
其 他的这一区域的开发商,包括Eliot Spitzer's Spitzer,还有Moinian Group。已经申请了这两项权利的购买。Spitzer公司在西35街正在开发一个40万平方英尺的酒店,而Moinian正在开发一个180万平方英 尺的写字楼,地点在3号哈德逊大道。
夸父已经提交了两份申请给市政规划局。第一项申请权利将花费夸父1千4百80万美金。这笔资金将交给非盈利机构哈德逊后院市政建设公司用来购买到118483平方英尺开发权的区域改善基金。这个价格是一个固定的价格,为125.36美金每平方英尺。
第二个开发面积53318平方英尺的来源是由2005年城市运输交通局存有的2百50万平方英尺空域开发面积中购买而来。这个费用的价格是按照每平方英尺的市政评估价格的65%收取。
Moinian公司已经收到了办公楼的评估报告,得出来的没平方英尺的购买价格为350美金。夸父的这个情况,评估出来后的购买空域开发权的价格为315美金每平方英尺。两项相加为3千1百60万美金。
可以看到美国的政府管理更细化,也更市场化,大多时候让市场决定价格。
曼哈顿,更多豪华公寓,更便宜的价格
1/13/2015
这个标题可能听起来很矛盾,更便宜的豪华公寓。但是更便宜的要价可能已经是一种曼哈顿市场的趋势了。
虽 然整个城市的公寓价格屡创新高。像 Jared Kushner这样的经纪人正在想办法卖掉目前一套最贵的公寓楼,要价6千6百万美金。但是还是有一些新公寓将价格定的更加平价,以吸引更多第一次买房的 买家。有一些公寓甚至开出的要价在75万美金到3百万美金之间。根据纽约日报的说法,这个价格自从上次金融危机起就没有再见到过。
在过去的24个月里,几乎所有的开放商都将开发重点放在了更大更豪华的公寓上。但是现在有些比较理智的开发商开始重新考虑了,毕竟不是每个买家都能负担的其6,7百万的公寓的。
根据纽约日报,这些低端公寓的涌入开始于美国两房,房利美和房地美宣布开始考虑放开超低首付房贷计划后。
有些例子,例如 325号 莱克辛顿大道的新房起步价为72.5万美金。
去年,纽约的Jets橄榄球队东家 Woody Johnson以纽约历史最高价8千万美金卖出了他的复式公寓楼。
对我的推荐,就是对我最大的鼓励和奖赏。
手机:347-628-8818
微信:bjrealestateny
邮箱:contactbarbieli@gmail.com
哈德逊园区
12/17/2014